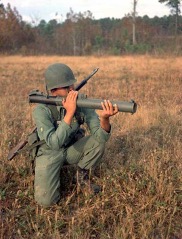 M72 LAW
Anti-tank handgun
Loan from Dr. Heinrich Peyers 
The M72 LAW (Light-Anti-Tank-Weapon) is a portable recoilless anti-tank handgun. It is a disposable weapon used against lightly armored targets.
| | |
| --- | --- |
| Origin: | USA |
| Length: | 655 mm (transport), 893 (ready to fire) |
| Weight: | 2.36 kg. |
| Caliber: | 66mm |
| Range: | 150-300m |
| Production time: | 1963-1983 |
© COLD WAR MUSEUM

Samopal vzor.58
Assault Rifle
Loan from Dr. Heinrich Peyers
The Samopal vz. 58 was the standard rifle of the Czechoslovak armed forces during the longest period of the Cold War. It resembles the AK-47 but is not identical to it. It is a gas pressure loader with a swing bolt action, and its short recoil gas piston has its own recoil spring. The Sa vz. 58 is lighter than the AK-47, but the latter was much more accurate, even under sustained fire.

Czechoslovakia traditionally had a strong independent arms industry. During the Cold War, it therefore attached great importance to equipping its troops with self-developed weapons from its own production. The ČSSR was thus the only Warsaw Treaty country that was not equipped with the AK-47.
| | |
| --- | --- |
| Origin: | Czechoslovakia (ČSSR) |
| Length: | 845 mm |
| Weight: | 3,10 kg |
| Caliber: | 7,62 x 39 |
| Magazine: | 30 cartridges |
| Operating time: | 1958-1983 |
© COLD WAR MUSEUM