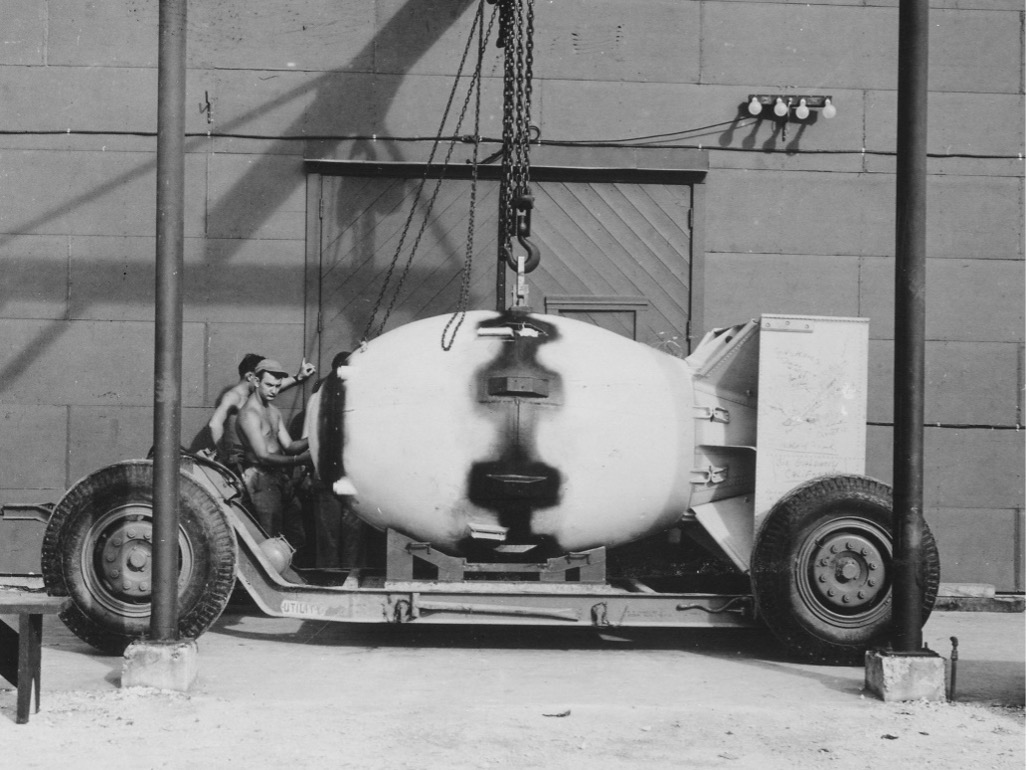 "Fat Man"
Mark-3 atomic bomb (replica)
The "Fat Man" was dropped over the Japanese city of Nagasaki on August 9, 1945. It was the second atomic bomb used by the USA against the country and its population. It exploded at 11:02 a.m. at an altitude of about 550 meters. The detonation killed between 39,000-80,000 people, countless more died later from the effects of radiation.

With this devastating demonstration of power, the USA wanted to force Japan to surrender and end the Second World War. At the same time, however, it initiated the nuclear race between the superpowers that would later have a decisive impact on the Cold War. On August 15, 1945, the Japanese emperor finally announced the unconditional surrender of his country. To this day, the USA is the only country to have used nuclear weapons in a war.

The "Fat Man" was a Mark-3 implosion bomb with an explosive force of about 21 kilotons. This type of bomb was first detonated on July 16, 1945, during the so-called Trinity test in the U.S. state of New Mexico as part of the Manhattan Project. In contrast to the "Little Boy", the atomic bomb that was dropped on Hiroshima, the "Fat Man" was not a uranium but a plutonium bomb, which was much more complex in its construction than the "Little Boy", but had more explosive power.

The Mark-3 atomic bomb was subsequently produced in larger numbers and included in the U.S. arsenal. The first Soviet atomic bomb, the RDS-1 of 1949, was an exact copy of the "Fat Man" atomic bomb. The design plans for the replica of the bomb reached the USSR through espionage.

© COLD WAR MUSEUM