The Korean War (1950-1953)
© COLD WAR MUSEUM
Book: "The U.S. Imperialist Started the Korean War" (Pyongyang 1977)
North Korean propaganda
North Korean propaganda claims to this day that South Korea started the war in 1950 on the instructions of the USA. Who fired the first shot on June 25, 1950, is indeed disputed to this day. What is certain, however, is that the North Korean dictator Kim Il-Sung began preparing a war of aggression against the South in 1949 and asked the Soviet Union and Communist China for support. In April 1950, Stalin authorized the North's attack on the South after previously equipping the North Korean army with heavy weapons. Moreover, by withdrawing Soviet forces from the Korean Peninsula in 1949, Stalin had diplomatically coerced the United States to withdraw its troops from Korea as well. The North was thus militarily superior to the South by 1950, and Kim Il-Sung's and Stalin's intensive preparations for a war of aggression, as evidenced by sources in Russian archives, argue against the claim of an attack by the South.
© COLD WAR MUSEUM
UN medal
On December 12, 1950, the United Nations established the United Service Medal as the first international award of the United Nations. It was later renamed the United Nations Service Medal Korea (UNSMK) to better distinguish it from other UN awards.
The medal was awarded to any member of a military force allied with South Korea who served in Korea between June 27, 1950 and July 27, 1954.
The front shows the signet of the UN. On the back is the inscription:

"FOR SERVICE IN DEFENSE OF THE PRINCIPLES OF THE CHARTER OF THE UNITED NATIONS".

For the armed forces of the British Commonwealth, King George VI endowed the Korea Medal in July 1951. The criteria for award were for the land, air and naval forces at least one day of service ashore. For the air forces, one deployment in Korean airspace and for the naval forces, at least 28 days of deployment in the sea area around Korea.
King George VI died on February 6, 1952, therefore the medal has a representation of the not yet crowned Queen Elizabeth II.
The reverse side shows Hercules fighting with the nine-headed Hydra.
In the edge of the medal was stamped the name of the wearer.
© COLD WAR MUSEUM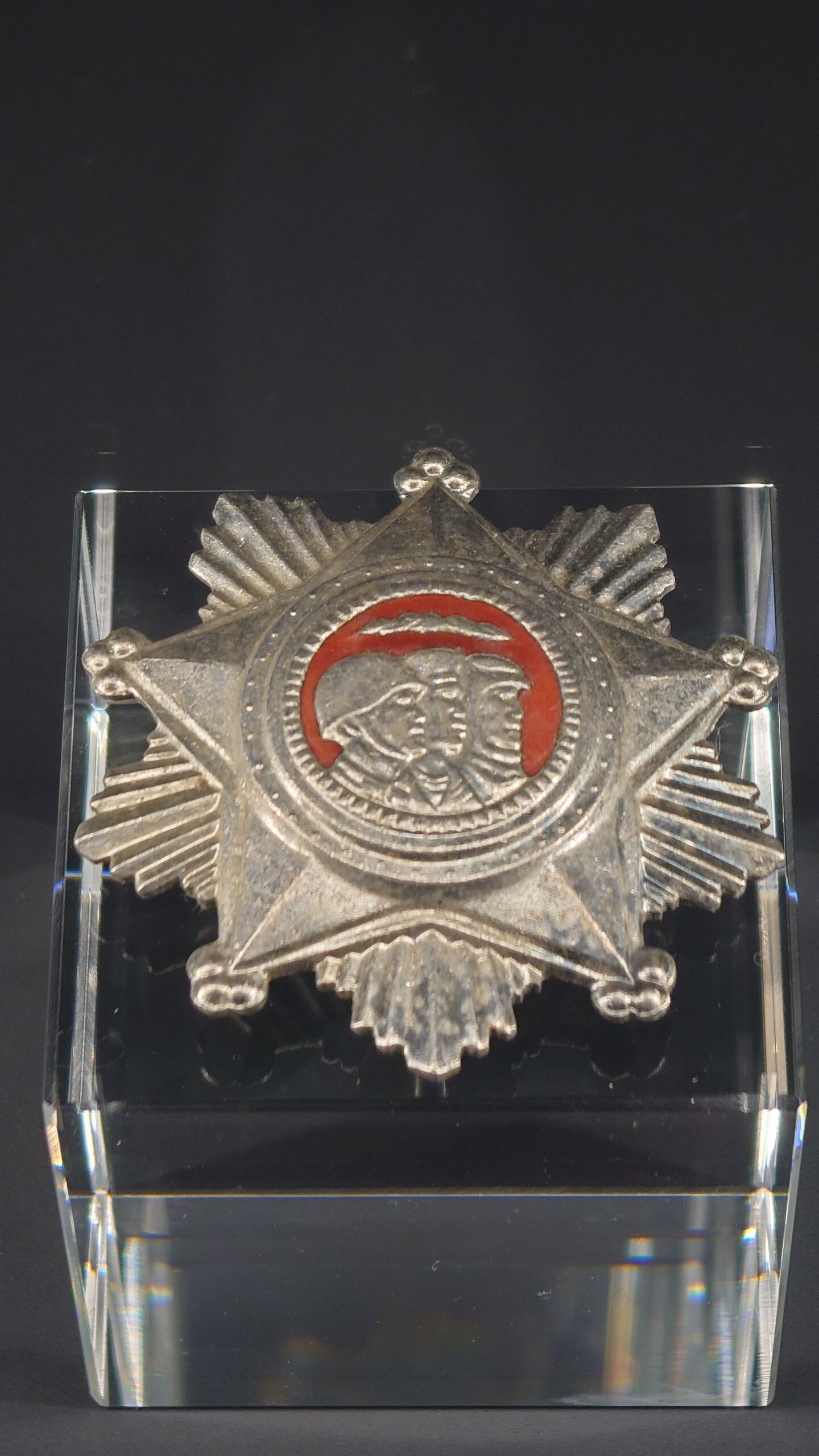 North Korean Medal of Honor
This North Korean Medal of Honor was awarded starting in the 1970s. Unlike the Military Medal of Honor, which was mainly awarded during the Korean War, this award was for soldiers who had successfully carried out small provocations or acts of sabotage against South Korea after the 1953 armistice.
© COLD WAR MUSEUM