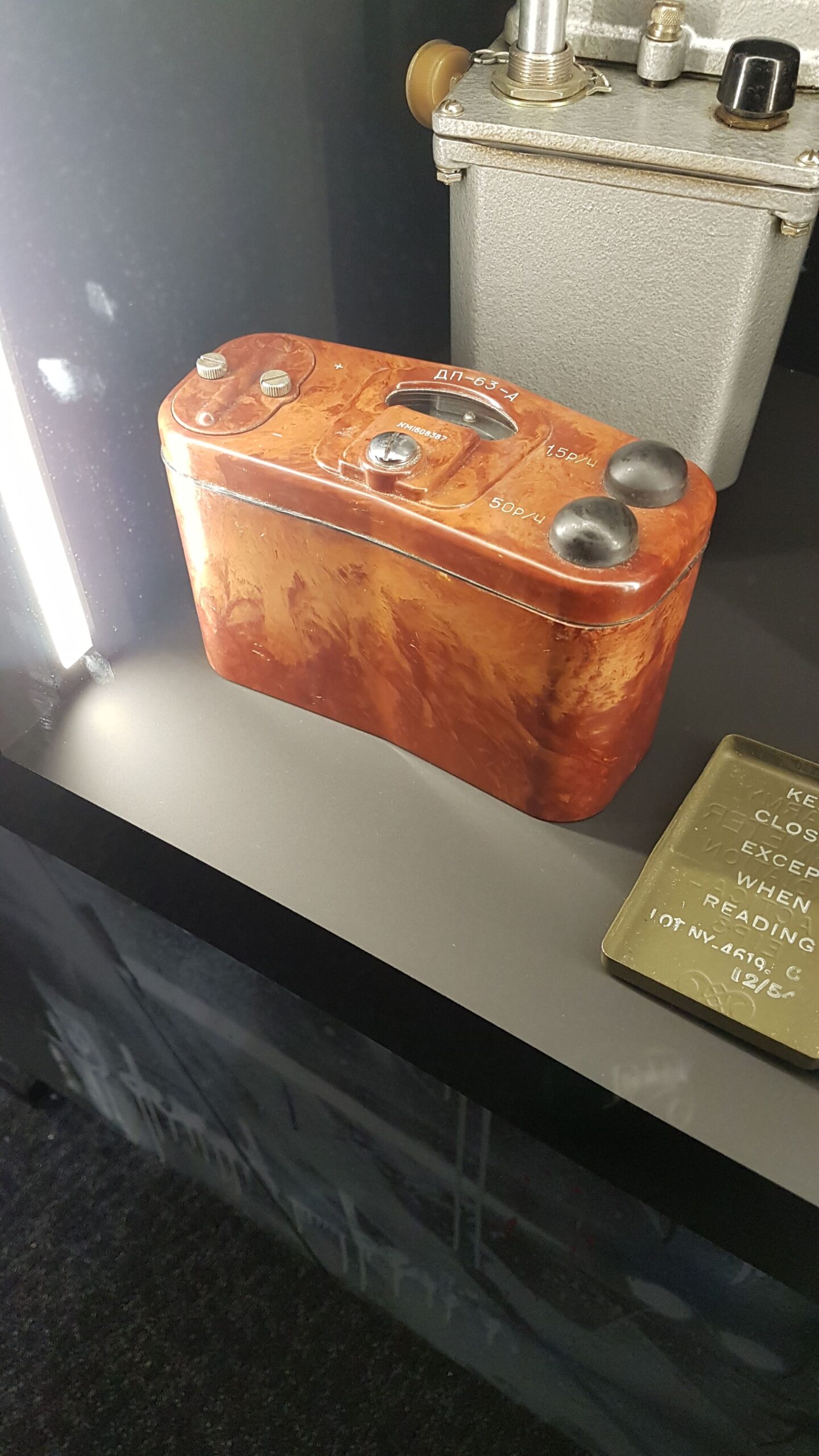 Geiger counter
Soviet Union ca. 1960
Soviet-designed device with which radioactive radiation could be measured.
© COLD WAR MUSEUM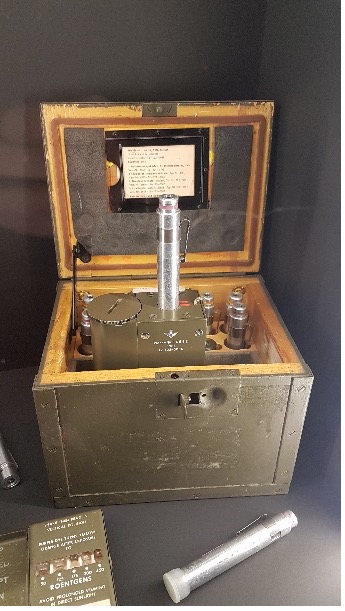 Radiation dosimeter, tactical (right)
German Armed Forces 1961
- Radiation dosimeter
- Charging and reading device
- Storage box
With this military dosimeter, soldiers could detect whether they had been exposed to radioactive radiation. To do this, they had to wear the dosimeter (1) close to their bodies. The radiation could be read in the eyepiece located at the upper end of the dosimeter. With the enclosed charging and reading device (2), the dosimeters could be charged and read in the dark. In the storage box (3), the dosimeters and the charger could be stored and transported.
© COLD WAR MUSEUM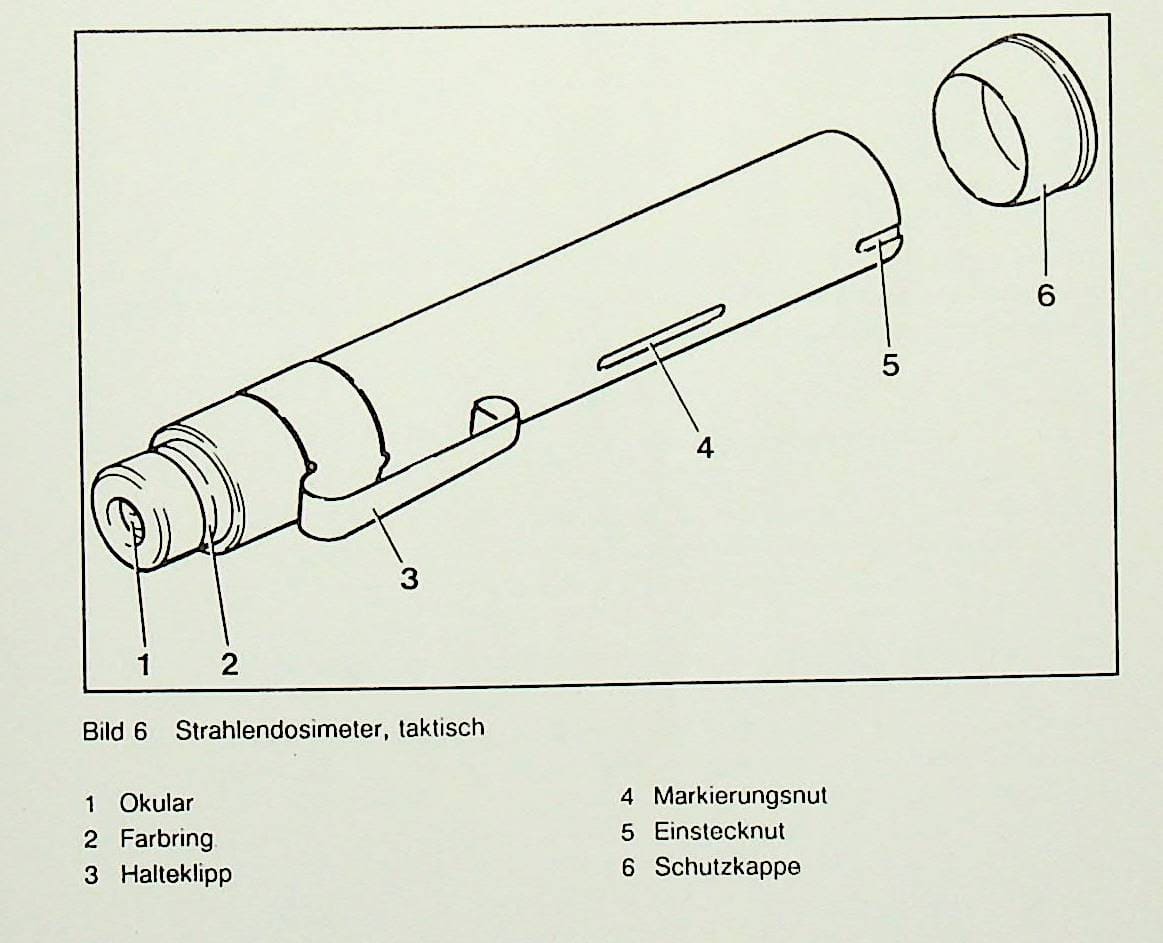 1 Radiation dosimeter
© German Armed Forces TDv 6665/002-14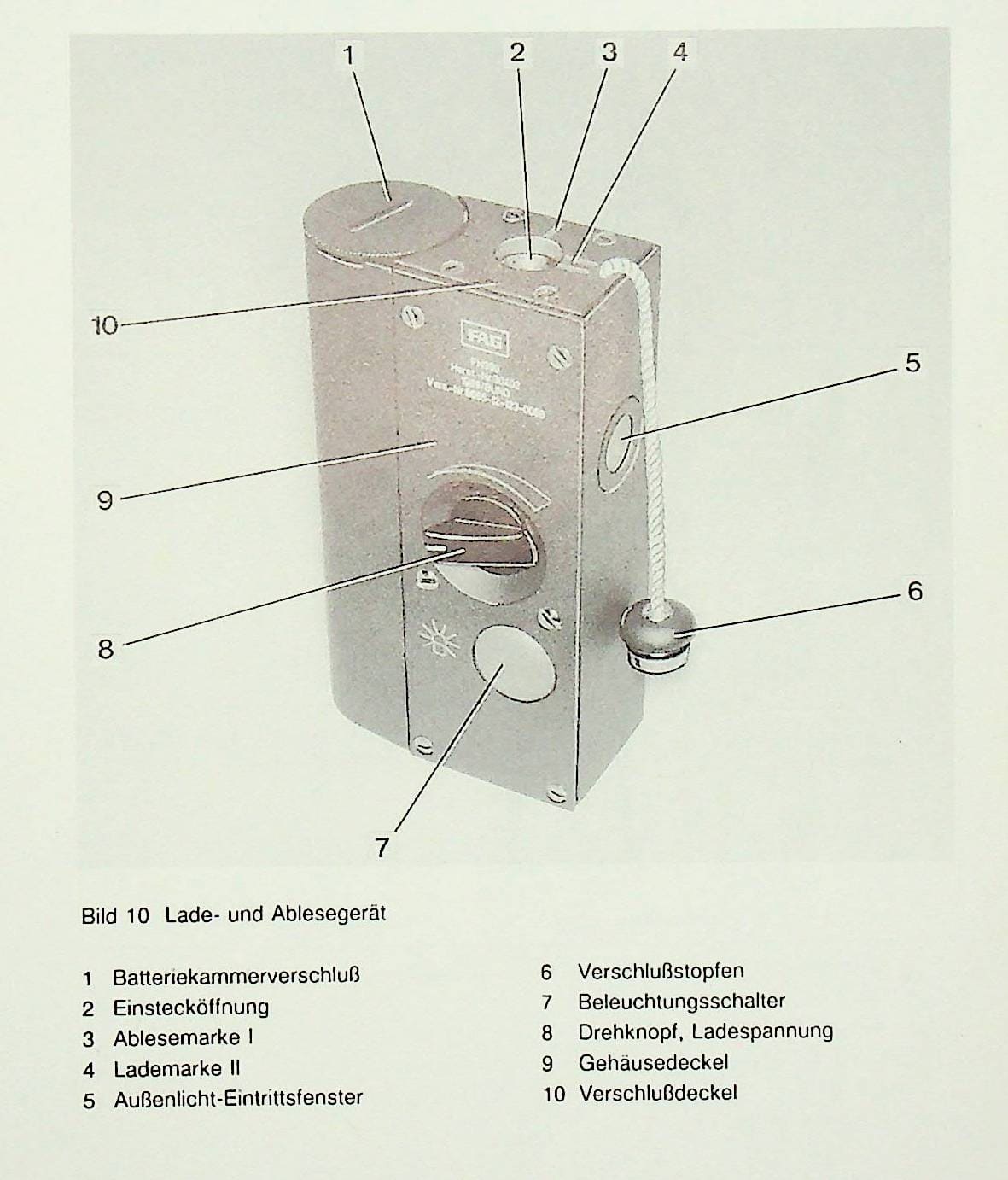 2 Charging and reading device
© German Armed Forces TDv 6665/002-14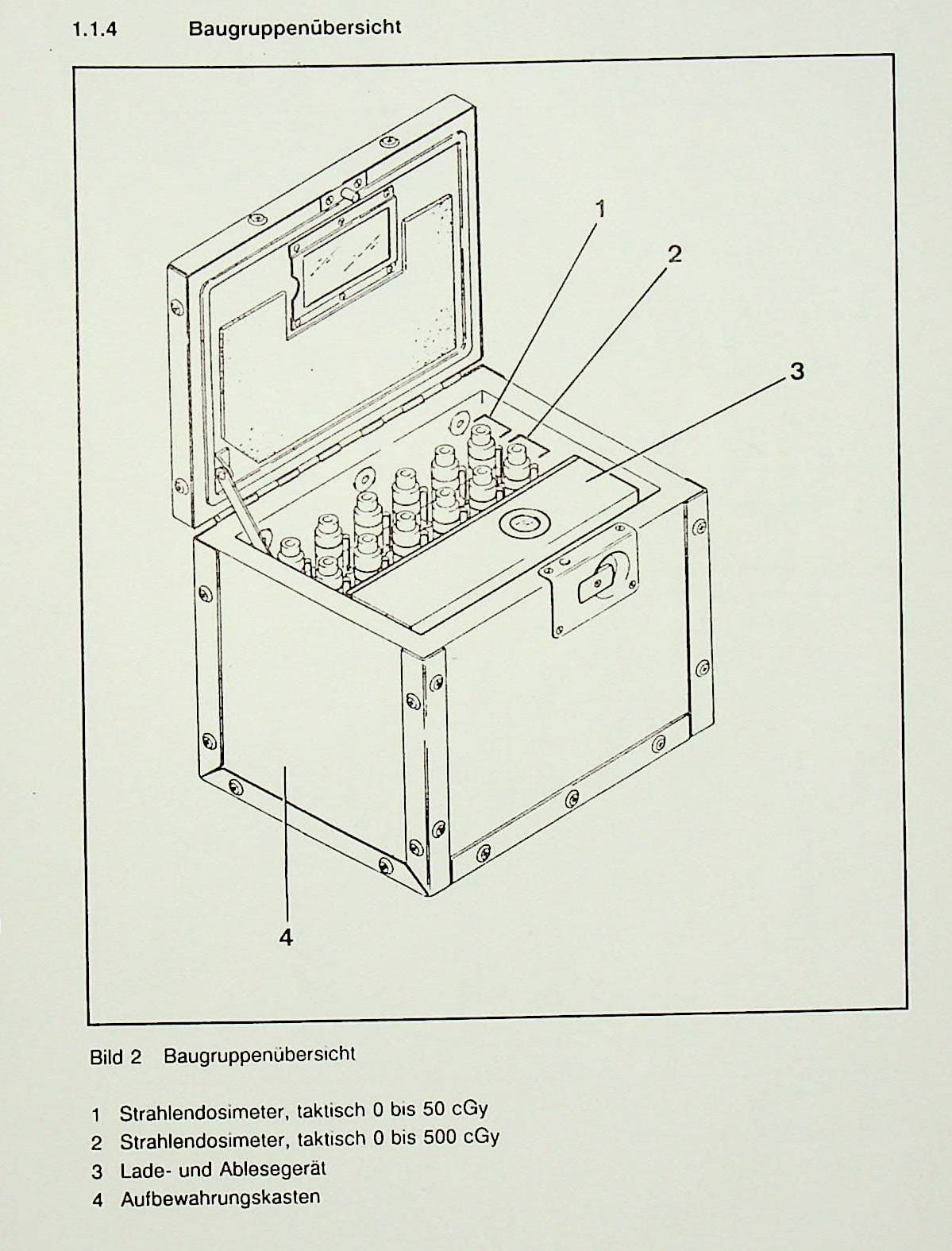 3 Storage box
© German Armed Forces TDv 6665/002-14
Pocket dosimeter (center)
U.S. Army ca. 1954
This U.S. Army chemical dosimeter is housed in an olive green metal case. The lid reads "U.S. Army, Dosimeter, Radiation Tactical EIR3" while the inside of the lid reads "Keep closed except when reading". The "54" probably refers to the production date. The bottom half of the unit contains five glass vials filled with solutions, partially visible through a horizontal window.

The instructions above the window read, "Shake and then read in the vertical position. The violet dye turns yellow-orange after exposure to sunlight" Under the window it says: "50, 125, 175, 300, 450 X-rays. Avoid prolonged viewing in direct sunlight."

The solution in the ampoules consists of alcohol-free chloroform and the dye bromine creosol violet. When the chloroform absorbs radiant energy, hydrochloric acid is formed, which changes the color of the dye from violet to yellow. Sodium hydroxide is added to adjust the sensitivity.

The purpose of the dosimeter was probably to predict the combat capability of troops entering an area where a tactical nuclear weapon had been deployed.

© COLD WAR MUSEUM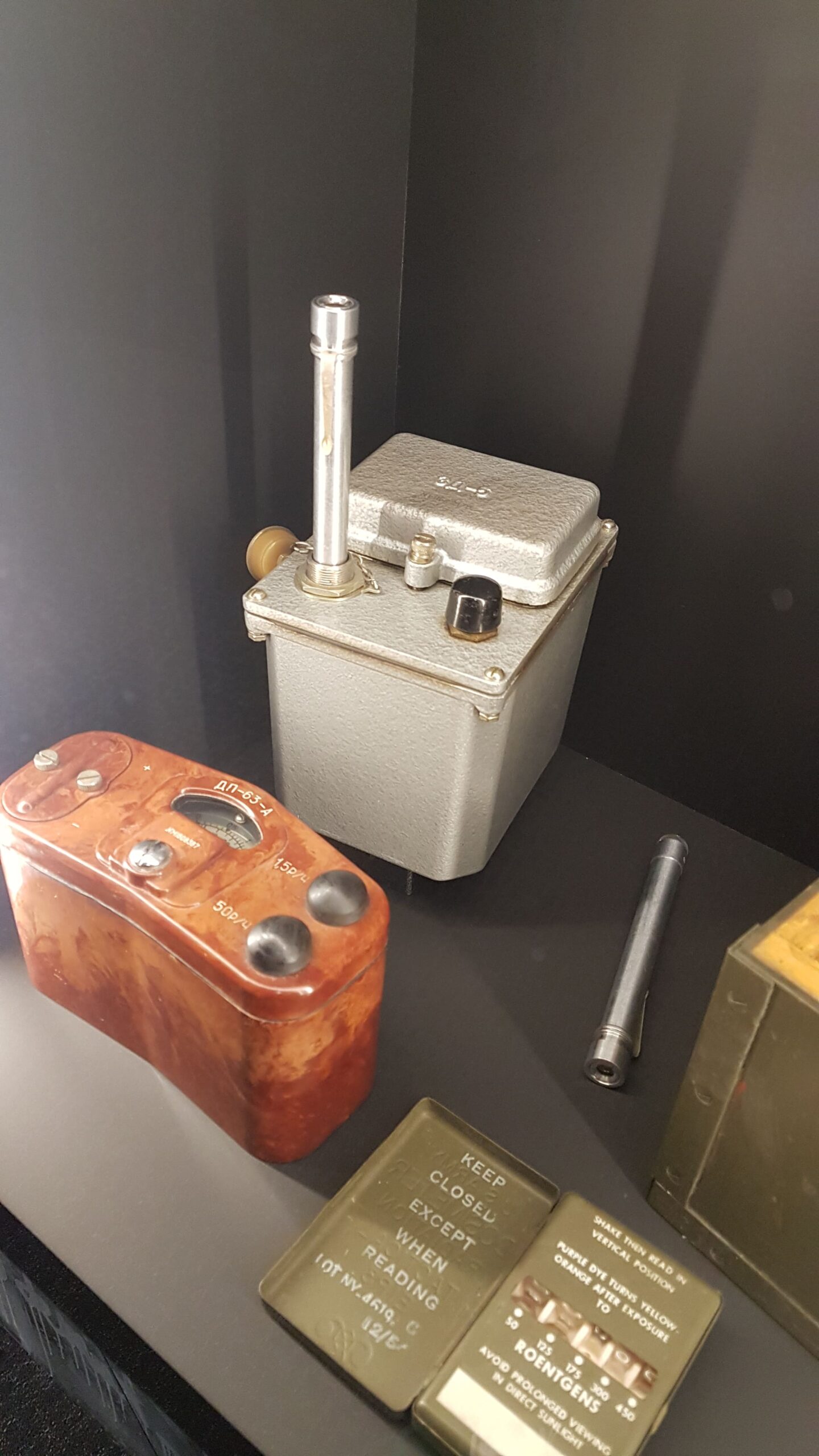 Personal dosimeter set DP-22V (rear left)
Soviet Union ca. 1960
- Personal dosimeter DKP-50A
- Charger ZD-5
With this dosimeter set it was possible to check whether persons were exposed to radioactive radiation.




© COLD WAR MUSEUM
Impact meter
German army ca. 1960
This simple Bundeswehr turntable was intended to calculate the effect of tactical nuclear weapons. It was used in military command posts starting in the early 1960s and served to estimate the damage that the use of the corresponding nuclear weapons would produce on the battlefield.
© COLD WAR MUSEUM