Monitoring
MfS/HVA, GDR; on loan DR. Heinrich Peyers
These devices were used by the MfS for surveillance and
Information Retrieval.
© COLD WAR MUSEUM
Microphone MM-61, Sennheiser from 1962
The MM-61 looks like the top of a fountain pen, instead of the nib it has a miniature coaxial jack for connecting the audio cable. The cable is about 95 cm long and has a 2 mm jack plug at the other end for connection to a recording device or transmitter.

Worn in the breast pocket of a jacket or shirt, the microphone is hardly noticeable. The cable was fed through a hole invisible from the outside to the recording device, which was worn concealed elsewhere on the body.

This microphone was used by secret services in East and West.
© COLD WAR MUSEUM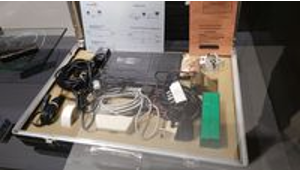 Agent case for telephone surveillance
"Universal storage system" DDR MfS late 70s with brief operating instructions. A case with material for telephone surveillance. It contains a cassette tape recorder and cassettes from GDR production and telephone plugs according to GDR and FRG standards for connection to telecommunications equipment.
© COLD WAR MUSEUM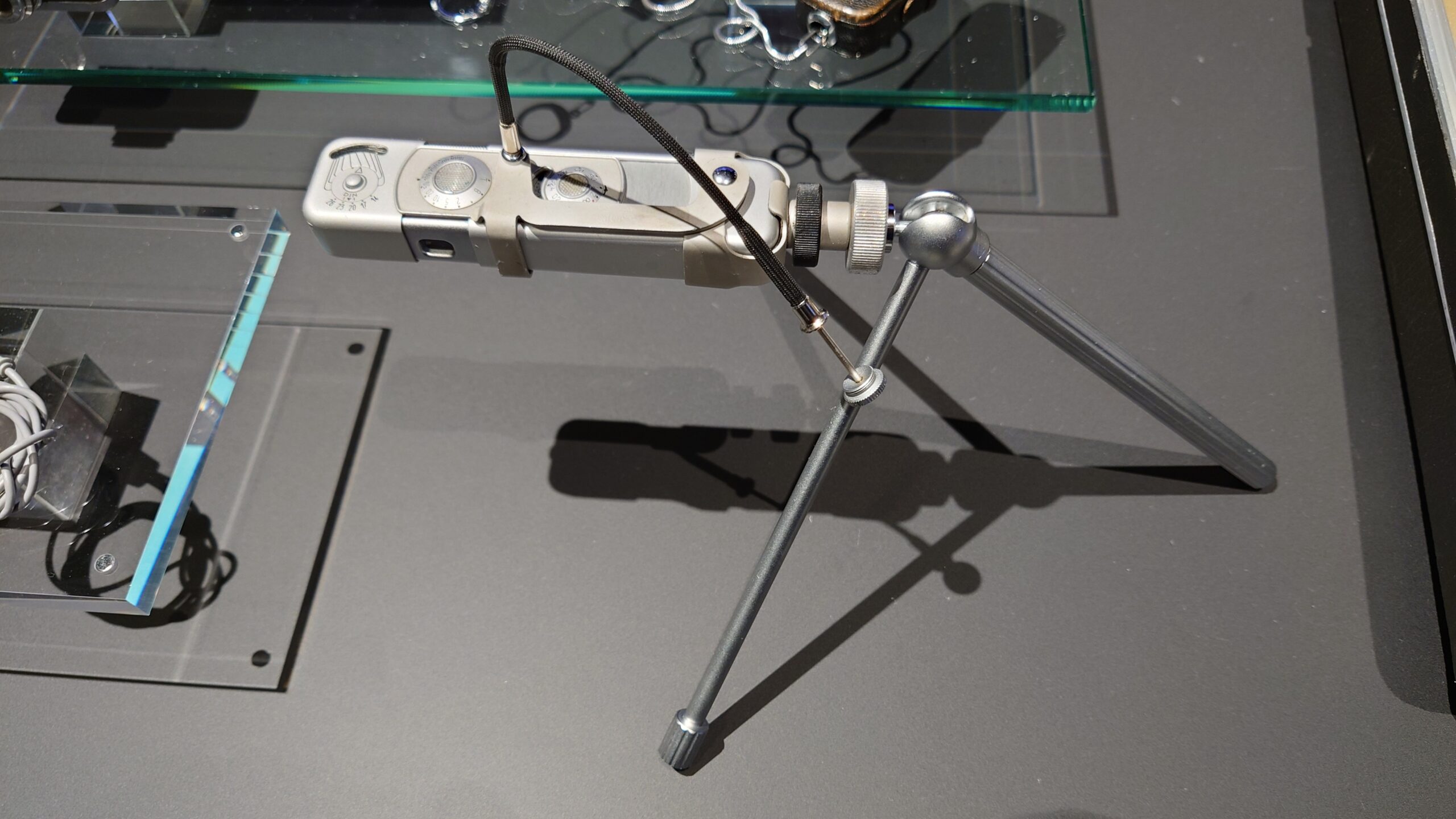 Minox B miniature camera
The Minox is a miniature camera with a negative format of 8x11mm. It was developed by Walter Zapp in Riga and manufactured by the Riga company VEF (Valsts elektrotehniskā fabrika, eng. State Electrotechnical Factory) from 1938. After World War 2, Zapp and a business partner founded Minox GmbH in Wetzlar. The camera was not originally intended as a spy camera, but was adopted by all intelligence agencies because of its handiness. It was available in the normal camera shop and was also used by many photo amateurs.
The Minox B on display was built from 1958. It has a coupled selenium exposure meter and thus allows exposures to be taken more accurately.
As an aid to distance adjustment for close-up photography, such as photographing documents, the measuring chain is available with beads in 20, 24, 30, 40 and 60 centimeters.
The camera is shown with Minox tripod holder on a Minox tripod. Behind it the leather case with measuring chain, the Minox film viewing magnifier and a slide in the special Minox slide frame.
© COLD WAR MUSEUM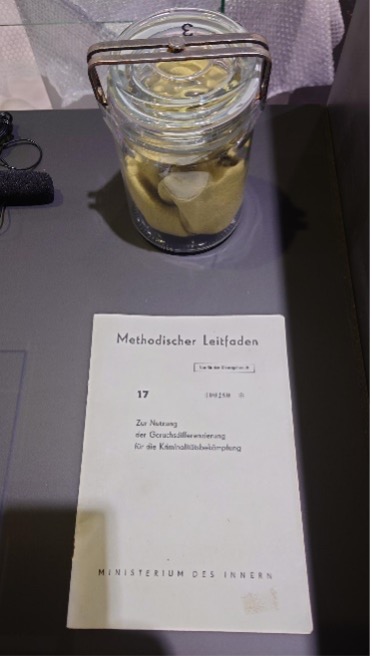 Odor canned
Every person's body odor is unique. East German security authorities use odor preserves like these to track and trace suspected persons. This involved placing suspected persons on a chair prepared with a yellow cloth during an interrogation. The body odor of the suspect was then absorbed by the cloth and subsequently preserved. If the person later went into hiding, he or she could be tracked down with the help of a search dog.
© COLD WAR MUSEUM
Microma II miniature camera
The Mikroma is a small viewfinder camera for 16mm film. It was manufactured by Meopta in Prerov (then in Czechoslovakia, now in the Czech Republic) from about 1949. It measures 75×43×40 mm and weighs 230 g

Film with perforation on one or both sides can be used, resulting in exposures of 10.5×14.7 or 11.5×14.7 mm, respectively. The film must be loaded into a supply cassette. It can contain up to 90 cm of film, which is sufficient for 50 exposures.

The Mikroma II appeared in the late 1950s. Like the Minox, it could be purchased in normal photo shops.

Due to its compact size, it was popular with intelligence agencies.
© COLD WAR MUSEUM