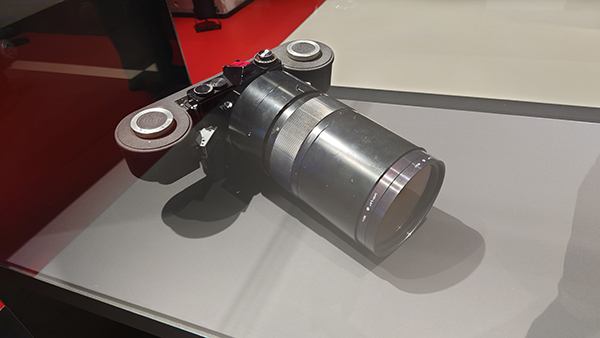 Silent SLR Praktica SR 899 (GSK) with Maksutov reflector telephoto lens
MfS/HVA, GDR (loan DR. Heinrich Peyers)
The Praktica GSK was developed in the 1970s at Pentacon in Dresden on behalf of the Operativ Technischer Sektor (OTS) of the MfS. Instead of the oscillating mirror, it has a fixed semi-transparent mirror made of a special film, fully automatic exposure and motorized film transport.

Additions included a long film magazine with 17m of 35mm film for 450 exposures (seen here), a data back, an external control unit, and special lenses. The mounted lens is a mirror lens MTO-11CA of the Makutsov type. This type of lens was originally developed by Dmitri Maksutov (1895-1964) for astronomy.

It can be used to capture high-resolution images at a very long distance. This model was used on a stationary camera by the Stasi for surveillance. The manufacturer of the lens is ЛЗОС, Lytkarino Optical Glass Plant near Moscow.

© COLD WAR MUSEUM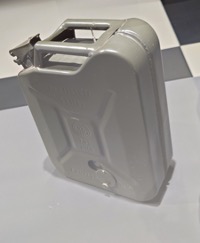 Gasoline can with hidden camera MfS/HVA
MfS/HVA (loaned by Dr. Heinrich Peyers)
With this camera hidden in a gasoline canister, suspicious persons could be observed inconspicuously.
© COLD WAR MUSEUM